San Francisco Creamery Co.
The San Francisco Creamery Company has its origins from the 1930's and 1940's when most ice cream fountains were found in neighborhood dimes stores and pharmacies. Even before the popularity of post war 50's diners, a certain J.B. Cooper converted an old Barbary saloon into a soda fountain and malt shop located at what is now the Fillmore district of San Francisco. Keeping the look of Victorian style decor, rich in wood finishes and accents, he went to work making homemade ice cream, chocolates, and other confections.
He called his popular little store "Cooper's Corner Confections and Fountain Shoppe." Inspired by Mr. Cooper and countless other ice cream fountains of that era, we are proud to continue the tradition of that San Francisco way of ice cream making and purveying.
We make all our own ice cream, hot fudge, chocolate syrup, caramel and butterscotch, the old fashioned way, right here on the premises. We bake all of our own cookies and brownies and we use only the finest Guittard chocolates and cocoa in all of our toppings and ice creams. We hope you will be pleased.
During the Covid-19 pandemic, we will be operating at limited hours. We apologize for any inconvenience that this may cause you. As we slowly return to normal operations, we will adjust our hours again accordingly.
Please check back here for updates or follow us on Facebook and Instagram for continual updates.
Thank you for your understanding.
Tue thru Fri: 2pm - 8pm
Sat and Sun: 12pm - 9pm
Monday: Close
San Francisco Creamery Co. | 1370 Locust Street, Walnut Creek, Ca 94596
Phone: 925.926.0228 | Fax: 925.926.0168


become a fan on Facebook |

follow us on Twitter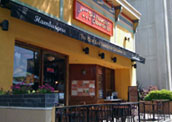 More for You
A list of upcoming events and our most current news.
Check out our Gift Cards in various values, T-shirts and other promotional products from San Francisco Creamery Co.
Feedback
Have any suggestion for us, or any wonderful idea about ice cream, drop us a line so we could serve you even better.
If you're interested in becoming one of us as an employee, this section has more detailed information.
A list of our house made flavors and more.